Hookup Cloud Reviews
Our team developed a process for reviewing an online dating site that took into account all the qualities we were looking for in a site. We wanted a site that got us laid, obviously, but more importantly, got us dates with real women. We interacted with each of these sites for four months to be sure that immediate perceptions did not play too much of a role and we tried to make sure that we didn't let a couple of bad users or users who were misusing the service overly color our review.
Even on top quality sites you will find cam girls and call girls lurking behind the scenes trying to score clients instead of dates. A good site will remove these users once it is brought to the attention of their staff. This ensures a quality user base and an excellent online dating service.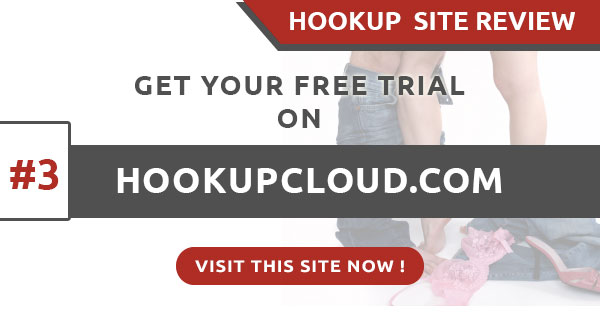 HookupCloud is one of the better sites for getting casual dates on the internet. As the name implies, HookupCloud is not the place to go for long term serious relationships, it's more for casual dating and seeing where things go from there. The interface was slick and offered several options for refining searches which were really useful to us. The male to female ratio was right where it should be, approximately even.
HookupCloud does not have free access for either males or females. At first glance this sucks but we did not run into one cam girl at any point, or any other professional sex worker. All the girls there were exactly what they appeared to be, women looking to score a casual date. They do have a cheap 3 day trial option which allows you to test run the site for a couple days, interact with the users and then see how it goes, and if you like it, you can extend that into a monthly or yearly membership. They aren't trying to trick you or play games as some other dissatisfied users have claimed. The three day trial was enough to convince us of that much.
Is HookupCloud real?
Yes. There has been plenty of noise on the internet concerning HookupCloud's attempts to defraud people using their employees. This isn't the case. HookupCloud's employees do use the site and are encouraged to interact with users. However, there is no legitimate benefit to stringing a user along since you pay upfront for the service. It makes no sense to their business model to defraud people in that way. Sometimes bitter users use the site and they notice something in the terms of service and they blame that on the fact that they're awkward and can't get laid. Well, guess what? If you're awkward and don't know how to interact with women, an internet dating service is not going to be any better for you than striking out at the bar.
HookupCloud provides a legitimate dating service for both men and women. All members are required to pay for the premium membership. This not only discourages wanker dudes, but also escorts from using the service to rook lonely men into paying for booty.
There is a major tendency toward short term dating and casual hookups. The ladies here are interested in bit of casual fun to spice up their lives, not Cliff Huxtable.
We did not have any problem meeting women on this site and we couldn't figure out what all the noise was about.
Is HookupCloud working for us?
Yes. The team sent over 160 e-mails to the various women on HookupCloud. In response we got 50 replies. Of those 50 replies we set up 29 dates. Of those 29 dates 23 of the women actually showed. Of those 23 women we were able to get laid 18 times. HookupCloud wound up being an all around fantastic dating experience for our crew. None of us had any issue finding dates or getting laid.
Pretty much everyone on our team got some booty from this site. The paid service ensured quality users and kept nefarious users away.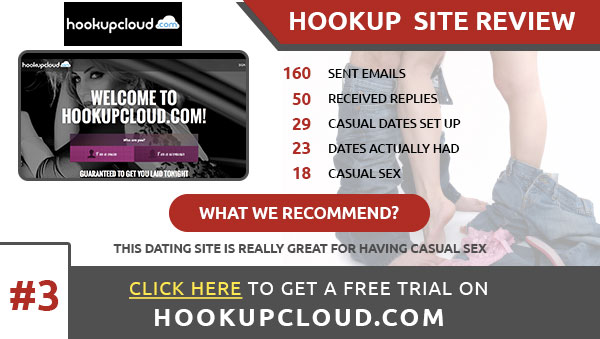 We recommend you to use HookupCloud in the United Kingdom. It ranks #3 as the BEST dating sites for having sex. Visit HookupCloud.com right now!
Other notes of Methodology
I and my teamused HookupCloud for over four months along with 300 other dating sites using the same criteria. We found that HookupCloud was a legit service for casual dating. They had a strong user base and we scored a decent amount of booty from the site. I still keep my premium membership on HookupCloud because I thought it was one of the best services on the web.
In our opinion, HookupCloud is one of the top sites for online dating on the net. The girls were cool and they were looking for the same thing we were.
What features does HookupCloud offer for Premium service
You might be leery about paying for a dating service, but paid membership ensures an interested and willing user base free of trolls, wankers, and escorts.
1. GPS locating of other users. The Mobile version of the app allows you to locate other users on the site (if you turn it on) which were really into. If you're out at the bar with your buddies and you check your phone, you can find someone from the site who is also doing the same. We love that feature. Not only could we talk with people on the site, but we could also interact with them in real life. So when you ask yourself why bother paying for a dating service when there are so many free ones out there, well, that's why.
2. Member photos are required. So yeah, you're not dealing with anonymous people or trying to figure out what they've got to hide. In our estimation, the photos were high res and hot as hell. We dug that bit a lot.
3. Excellent search engine. The search engine was excellent, we were able to find users near us quickly and easily, also users online, so if you were out you check in with them and see where they were at.
Overall Review of HookupCloud
HookupCloud is one of the best online dating sites on the internet, for hookups or for casual dating. The staff ensured that cam girls and professional sex workers did not use the site beyond the terms of service and it was worth the money we paid to meet single ladies in the area looking for no strings attached encounters. We especially liked mobile app which allowed us to see who was in the neighborhood when we were out cruising the town. It was awesome to be able to wander around town and see where other users were.
Our hook-up to date ratio was higher than we expected. We met a lot of girls who were looking for the same things we were and overall the service was worth the money we paid into it. We give it a 9.5 on a scale of 10. We felt that it was one of the best sites we've ever been on for online hook ups and dating.